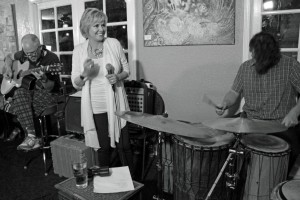 The Rapture came and went and I'm still here, you're still here, we're all still here from the looks of it. No flesh-eating zombies, although my editor did get on my case for missing a deadline. The only casualty seems to be the L.A. Lakers bowing out of the playoffs early, and that was a few weeks ago so that doesn't count.
But I was ready. I was prepared to meet St. Peter at the Pearly Gates. He would ask, "Son, what did you do for a living?"
"I was a musician," is how I would answer.
"What kind of music?"
"All sorts, rock and folk music early, then it got jazzier and more like a world music thing."
"Did you ever have a girl singer in the band?"
"Yeah, in a rock band in the mid-90s, that lasted a year or so."
"A year?"
"Yes, longer really."
"A year, 3 months, 12 days to be exact, I've got it right here," says St. Pete.
"I figured you'd have all the details."
"Well my son, having a girl singer in the band was our way of putting you through Purgatory, you've done your time, allow me to open the gates for you. There's a jam session hosted by Charlie Christian and Django Reinhardt coming up in an hour. I'll let your wife in when she gets here & her Purgatory was dealing with you all those years – and there's a whole pack of dogs waiting for you, Furry Lewis, Iris, Etta Baker, Giulietta, Valentine, Skydog, a bunch more, there all here."
Do I really feel that way about girl singers? Only a little bit tongue-in-cheek, although the best humor is as true as it is funny. Or is it as sad as it is funny? I forget how the saying goes.
Either way, I've changed my tune. I don't feel that way anymore.
A rockin' intro to "Smackwater Jack" and in walks Laura Tate Goldman.
Laura and I have been working together a handful of months, done a few sell-out gigs at The Magic Pan, and things seem to be running on all cylinders. We've both been around the block a few times, have tons of experience and know what it takes to get the job done.
Friends had been telling me about this singer for a couple years, and finally I gave her a call. Some of my favorite guitar players play their best when they're backing up singers, and a good girl singer really lights up the stage.
I haven't given up my instrumental gigs & I should be getting an electric sitar in the mail this week  but it's nice for me not being the focal point on stage when I'm playing with Laura. She's the rocket, we're mission control. Maybe I'm Ed "failure is not an option" Harris ("Apollo 13"). Our job is to catapult this down-to-earth person with the voice from above into the stratosphere.
The first time we met I knew from the way she carried herself and the way she talked that she knew what she was doing. No BS, no rucka rucka from humma humma, no "touring, label, producer" talk that I hear from so many that instantly blazes the "L" across their forehead. I didn't even have to hear Laura sing, I just knew.
And that voice! We worked up a night of Carole King tunes, spending a lot of time with the "Tapestry" album. I like the way Laura sings those songs better.
Some remakes own the originals & Joe Cocker's version of "A Little Help From My Friends," Spooky Tooth's "I Am The Walrus," Manfred Mann's "The Mighty Quinn" or any of The Byrds' Dylan covers. Laura has that kind of voice.
Easy to work with, willing to pitch in and share the load, comes prepared to rehearsals, and has that overdrive gear necessary for performances. Oh yeah, she comes with her own PA too, and she sets it up herself!